LABS supplies the Heat Recovery Unit to fight condensation
The Heat Recovery Unit is special fan which is for single rooms. It has been specifically designed to eliminate excessive moisture. This helps to prevent condensation with the inherent risks to property and health whilst retaining up to 80% of heat contained within the outgoing air. The full range of fan is available here; https://l-a-b-s.co.uk/product/positive-air-vents-heat-recovery-units/.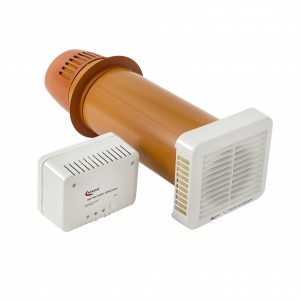 The heat recovery unit range are available in 230v or 12v models which is dependent upon the installation criteria. All the models run on trickle speed continuously and has various options to change to fast speed. The wall mounting kits are available in brown, white, terracotta or stone.
Key Features
Wall, Window or Ceiling mounted
Integral Humidity Sensors
Energy saving manual Pullcord override
2 year no quibble guarantee
Recovers up to 80% of heat that would otherwise be lost
Simple Installation
CE
All units are manufactured to create a balanced airflow. This is make sure that there is no interference with the conventional gas boilers / heating systems. This causes negative air pressure which may cause a problem.
Condensation .. it's causes and effects.
Water is deposited on the cooler surfaces in a building, particularly in winter. The first indication is usually black mould growth in the worst affected areas. This growth is characteristic of condensation because mould need pure water for their growth and development. In severe cases the amount of water may be great causing pools of water on the floor, windowsills or on clothing and furniture.
Householders often find it difficult to believe that such severe damp problems can be caused by condensation alone. Often they believe there must be some sort of building defect which is usually not the case.
Often the condensation can occur at low levels where the surface of the wall is coolest, starting in a corner and then spreading along the length of the wall. This may appear to be rising damp and can easily be confused.
Why has condensation become such a common cause of damp?
If the water vapour in the air of a home can escape somewhere, condensation would never occur. When homes were more draughty and open fires common, damp air would mainly escape up the chimney. Houses are now significantly better insulated hence the moisture has nowhere to go and hence condensation problems have grown significantly.
Mould growth
Mould growth is a typical consequence of condensation problems in a home. Moulds are often most severe in room corners and on external walls. This is mainly because insufficient ventilation creates pockets of stagnant air in such corners.