LABS discuss the different timber treatments
LABS timber specialists are trained by Wykamol to their specially designed timber treatments when it comes to wood infestation. The traditional building methods combined with a predominantly damp, temperate climate causes the UK housing stock to suffer from a high risk from insect and fungal attack to structural timbers. A good practice in building design to pre-treat timber with preservatives as a lifetime precaution against dry rot or woodworm.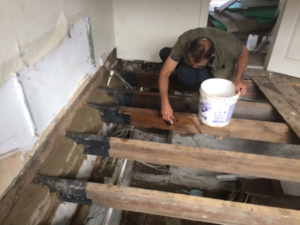 Most traditional and modern buildings unforunately do not have the benefit of such protection. Combine the lack of timber treatment with poor maintenance. This leads to many cases of timber decay identified during housing surveys. LABS surveyors are fully qualified and insurance to provide surveys for mortgage lenders.
Timber Treatment Products
LABS supply Timber Treatment Products manufactured by Wykamol Group. One of the more well known quality products  includes Woodworm Treatment Products and Dry Rot Treatments. Since 1934 the products are recognised across the industry as providing high levels of protection over many years. The products are manufactured under an ISO900:2008 quality management system and are approved for use by the HSE.
The timber treatment Product ranges includes Microtech a unique microemulsion which gives 1 hour re-entry time and the Wykabor range of products based on disodium octaborate. In addition our Wykamol Plus and Woodtreat Paste are longstanding, effective products which are industry benchmarks.
In addition, LABS supply Wykamol produced range of Industrial Timber Treatments into the pre-treatment and joinery markets. Along with our own product formulations such as Wykabor Wood Preservative and Wykabor DB we are also suppliers of the Dr. Wolman range of timber preservation products for the pre-treatment and joinery industries.
To complement the timber treatments made by the Wykamol Group, they also sell a complete range of timber repair products for the remedial repair of timbers. Along with the Protimeter range of survey equipment and a complete range of installation equipment. LABS can provide you with the Wykamol products for all your needs with the timber treatments and repair.
For the householder, LABS are part of the Wykamol Approved Contractor Scheme gives the homeowner peace of mind. LABS are quality conscious, service orientated company who has applied for the Wykamol Approved Contractor status. Wykamol's Technical Managers physically inspect the sites, offices and workmanship of applicants (and members) on an ongoing basis, to check and approve them against strict criteria. Once a member, all Wykamol Approved Contractors must also attend regular training sessions to ensure they keep up-to-date with the latest developments in the industry.